Guest Post by: Beauty School ScArlet
A few weeks ago I purchased the Seeing Stars Smudge Stick Set by Stila Cosmetics from hautelook.com. Just in case you are in the dark about hautelook, let me open your eyes to the wonderful world of designer beauty and fashion at discount prices!!! The company is a division of Nordstrom and they have the good, good designer labels to choose from and then some with markdowns that will send you to shopaholic's anonyms (not that I know from real life experience or anything…IJS) LOL. But, that didn't stop me because believe it or not, I have never tried Stila Cosmetics and this was the perfect opportunity for me to get started (I know that is hard to believe but contrary to popular belief, I have not even hit the surface of trying most brands). Yup…Shocking!!!
So there I was on hautelook.com adding Stila products to my basket. But before I go into the likes and dislikes, let me introduce you to the brand. Ladies, please meet Stila Cosmetics, a brand that believes you create your own rules when it comes to beauty. They encourage you to be your own makeup artist and celebrate your individual style. What's not to love about that???
Now that you have met the brand, let me tell you about the Smudge Stick Waterproof Eyeliner. First off, let me say that I am not that big of a fan of waterproof eyeliners because I have not found one that will not smear. So when I tried this one, I was very skeptical and I went in thinking that I could be wasting my money!!! With that said, let me tell you what I liked. I like the softness of the pencil; it glides on the eyes very well. The colors have high pigment and good staying power. I went to work and an event after work and it lasted through the entire day and NO SMEAR OR SMUDGE!!! Other brands (that claim to be waterproof) have smeared as soon as I blink to put the liner on the other eye…SMH. But not the Smudge Stick, it stays on as soon as you line the eye!!! And guess what??? It is an automatic pencil so there are no shavings to empty. The funny thing is, when you read the description about the product, it says that you will become slightly obsessed and slightly doesn't even begin to describe my new obsession (please don't judge me…I am going to get one in every color)!!!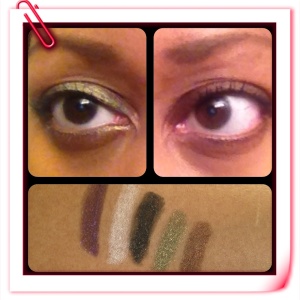 As you can read, I really love this eyeliner and I really can't think of dislikes (even when I close my eyes and think really long and hard… nope, nothing, nada, zero, zilch). So you have probably guessed by know, my final grade for the Smudge Stick Waterproof Eyeliner by Stila Cosmetics, is 5 out of 5 smooches…MUAH!!! But, before I end this review, I have to give a few shout outs (if you don't mind). Thank you Stila for making a waterproof liner that is actually waterproof and doesn't smear. Thank you hautelook.com for selling the liners as a special set of 5 at a great price, you have made me a very happy product junkie!!! If you want to purchase the eyeliner, you can go to stila.com and get it for $20 and choose from 11 shades. Unfortunately, hautelook.com is no longer running this special but keep checking because they made have another one soon). Happy Shopping!!!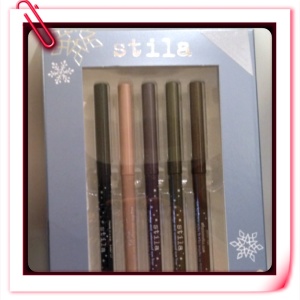 For more product reviews, become a Beauty Scholar by joining my blog at www.beautyschoolscarlet.com